How To Install Artificial Grass Putting Green In Terrace DIY In Coronado?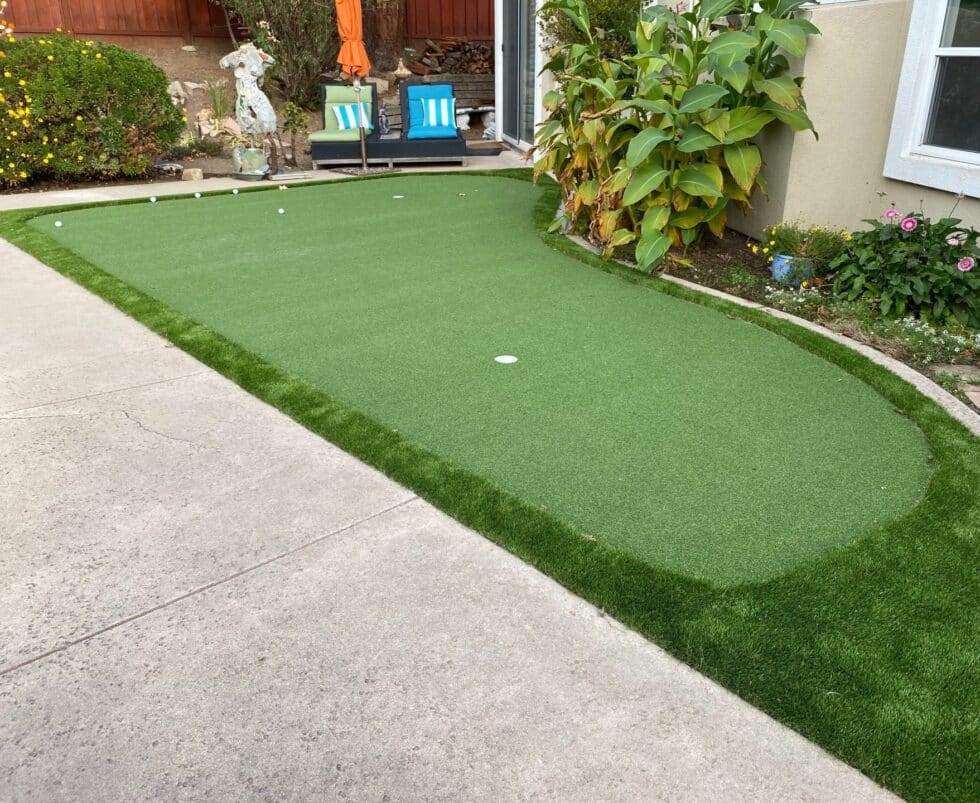 Transforming your terrace into a putting green sanctuary with artificial grass can be a rewarding DIY project. Not only does it provide a personal space for golf enthusiasts to practice their putts, but it also adds a touch of verdant charm to your outdoor living area. If you're considering taking on this venture, here are five tips to help you navigate the installation process for an enviable rooftop oasis.
Before laying down your artificial turf, proper preparation of the surface is crucial. Ensure your terrace is clean, dry, and level. Any unevenness can lead to poor ball roll and an unsatisfactory putting experience. If your terrace is concrete, make sure to patch up any cracks or irregularities. For those starting with a rougher surface, consider installing a layer of compacted aggregate or a rubber underlay to create a smooth, cushioned base.
Selecting the appropriate artificial grass is critical for an authentic putting green feel. Look for turf that is specifically designed for golf, with a shorter pile height that mimics the smooth, dense texture of a real green. The stimp rating, which measures the speed of the turf, can also be a consideration depending on how challenging you want your practice green to be.
Proper drainage is essential, especially for a terrace setting where water pooling can cause damage. Most artificial grass is permeable, but make sure to install a drainage system that can handle your local rainfall. This may involve installing additional drainage layers beneath the turf or ensuring that the existing terrace drainage is unobstructed.
Once your surface is prepped, it's time to roll out the artificial grass. You'll need to cut the turf to fit the area precisely, which can be done with a sharp utility knife. It's better to measure twice and cut once to avoid any mistakes. Secure the turf around the edges and seams with outdoor-grade adhesive or lawn tape, ensuring there are no visible seams or loose edges that could affect play or create tripping hazards.
After laying down your green, adding some finishing touches can elevate the look and functionality of your putting area. Consider installing hole cups and flags to practice different putts, or create contours and breaks with a layer of sand beneath the turf to simulate real green conditions. Lastly, brush up the turf with a stiff broom to give the grass blades a more natural look and feel.
FAQs
How Long Does Artificial Grass Last On A Terrace Putting Green?
High-quality artificial grass can last anywhere from 10 to 20 years, depending on the amount of foot traffic and weather exposure. Regular maintenance, like keeping it clean and brushing the fibers to keep them upright, can extend its life.
Is It Necessary To Add Infill To Artificial Grass On A Terrace?
Infill can help stabilize the turf, keep the blades upright, and add some weight to prevent shifting. For putting greens, a fine-grained infill is often used to ensure a smooth surface for the ball to roll over.
Can Artificial Grass Damage My Terrace Surface?
Artificial grass by itself is unlikely to damage a well-maintained terrace surface. However, it's important to install it correctly to prevent water from being trapped and causing damage over time.
Conclusion
Creating a DIY artificial grass putting green on your terrace is a fulfilling project that can enhance your living space and offer endless hours of entertainment. By meticulously preparing the area, selecting the right materials, and paying attention to detail throughout the installation, you can achieve a professional-looking and functional putting green. Remember, the devil is in the details, and the success of your DIY installation lies in the precision and care you invest in each step of the process. For more information, contact Artificial Turf Coronado at (619) 486-3223.